As we all know, for android users, we can directly set a loved song as ringtone. But for iOS users, it is really annoying because we can't make ringtones of our own on iPhone. And the self-contained ringtones on iPhone is very limited, we don't have much choices. Now iTools provided a perfect way to customize ringtones for iPhone users.
iTools is an professional tool to manage the content of iOS device. It can help users to backup, transfer all the contents including contacts, Apps, photos, music, videos, books, files and documents from all the iOS devices to windows computer or Mac within just a few clicks and vice versa.
It is easy to use both for new users and advanced users. iTools supports all iPhone models including iPhone 3gs, iPhone 4/4s, iPhone 5/5s/5c, iPhone 6/6s/6plus, iPhone7/7s/7plus, iPhone8/8plus, iPhoneX, ipod, ipad. it can be installed on both windows computer and Mac.
Please download iTools (iTools for windows, iTools for Mac) to have a try.
How to customize ringtones with iTools
This following guide will show you step-by-step about how to customize ringtones on iPhone easily and quickly with iTools.
Step1:
After connecting iPhone with iTools, click "Toolbox" button on the menu bar, the below interface will display: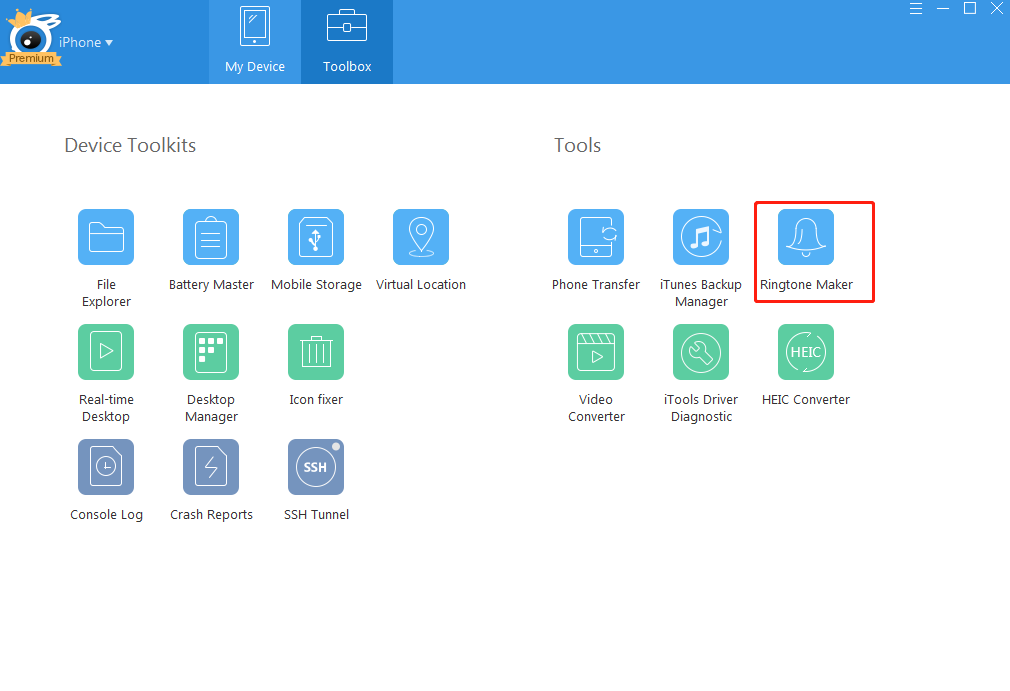 Step2:
Click "Ringtone Maker" button, you can see the follow interface: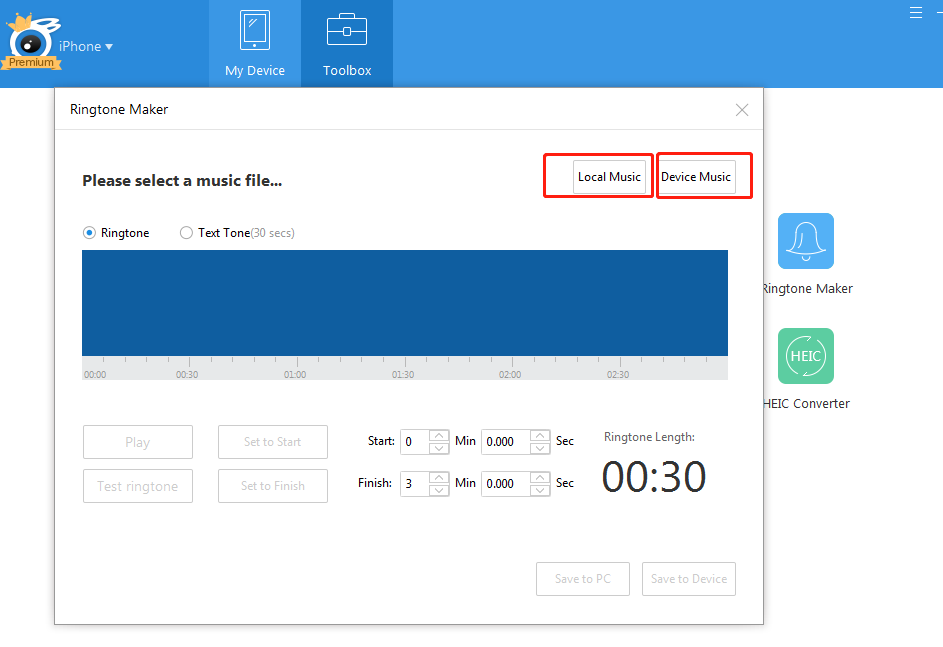 If you want to select a song from your laptop, you can select "Local music", if you want to select a song from your iPhone, you can select "Device Music". Click "Device Music", the follow interface will display: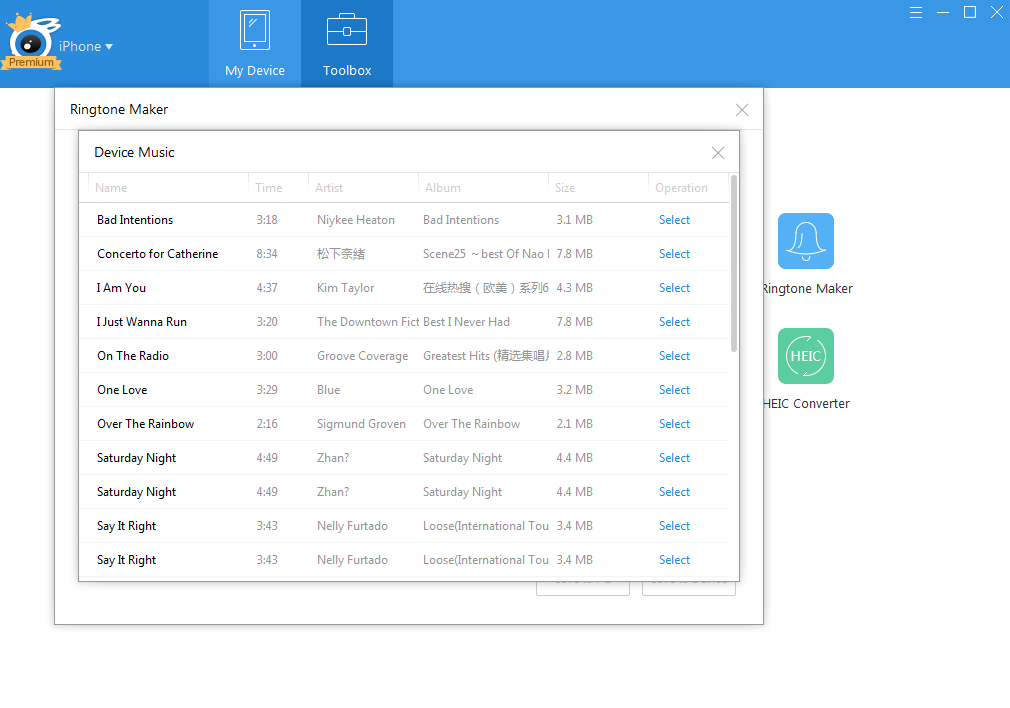 Select a song on your iPhone, you will see the below interface: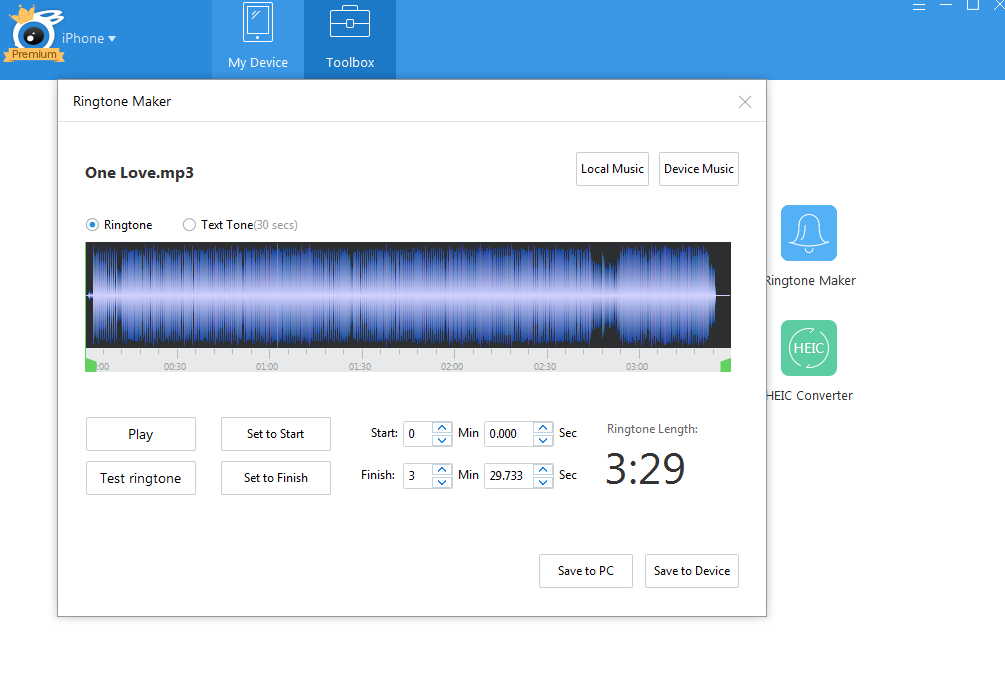 Step3:
Drag the green line on the start and end point, you can customize the length of your ringtones.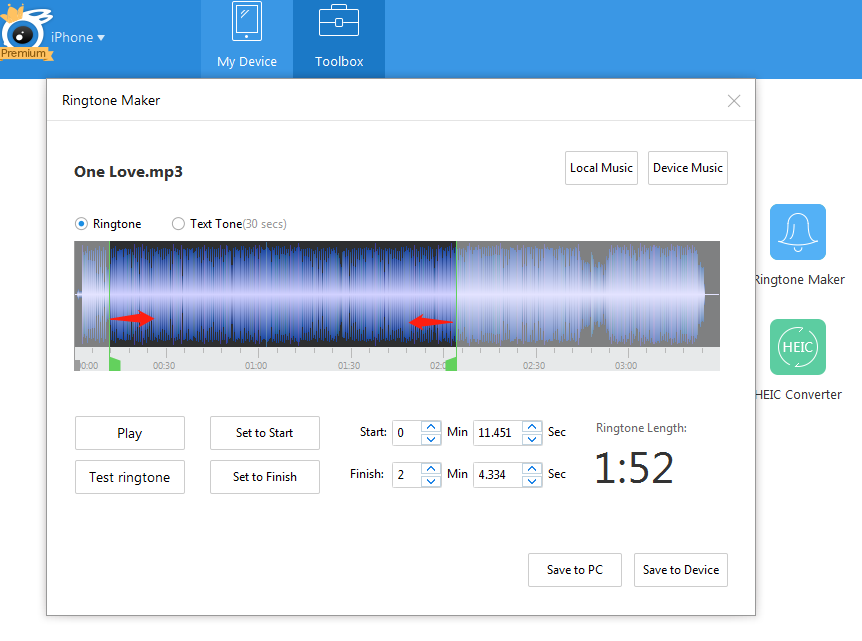 Then, click "save to Device", you can save the ringtone you just made to your iPhone.
If you want to make a text tone, you can click the "Text Tone" on the Ringtone Maker interface above. You can customize your own text tone in the same way. The only difference is that the text tone has length limits of 30 seconds. But ringtones has no length limits.
After you saved the customized ringtones and text tones on your iPhone, the ringtones and text tones will automatically go to the "ringtone" and "text tone" category on your iPhone. You will find them easily when you want to change your ringtones and text tones as usually.
Still wondering how to customize ringtones with your favorite songs? Try iTools. I'm sure you will get more than you expected!
Any other problems for iTools during your operation, please go to our customer service for solutions.
Know more about thinkskysoft and iTools, please click here.