When do you have to disable iCloud photo library? If you are going to export photo(s) via iTools from iPhone to PC, you may find you can't. iTools doesn't support export photo(s) from your iCloud Photo Library.You need retry after downloading to your device. That means you have enabled the feature iCloud Photo Library and you chose the option "Optimize iPhone Storage" to save disk space. As a result of this, iTools cannot export the full-size version of your photo from iCloud directly. So, How to disable iCoud photo library?
What is iCloud Photo Library?
iCloud Photo Library is a separate service you can enable it uploads every image you take to iCloud. You don't need to enable iCloud Photo Library to upload Photos on iPhone, but if you choose not to, the photos or videos won't sync across your device. Then you can't optimize storage for your devices to save disk space. You'll have to manually back up your photos elsewhere. You can find more details about iCloud Photo Library on this page: https://support.apple.com/en-us/HT204264 
The Pros and Cons of iCloud Photo Library
[Pro] Never worry about losing photos so long as your iCloud has enough spaces.
[Pro] You can access your photos from anywhere.
[Pro] Save your device's storage space by optimizing your photos. The high-resolution versions of photos will be uploaded to iCloud Photo Library.
[Con] You have to purchase the upgraded plan to get more iCloud storage.
[Con] You can't choose to sync certain photos.
[Con] When you want to access the high-resolution version of a photo, maybe it needs to be downloaded from iCloud.
How to enable or disable iCloud photo library on iPhone or iPad?
If you want to export all the photos by iTools, you need to choose "Download and Keep Originals" or disable iCloud Photo Library.
Download and Keep Originals: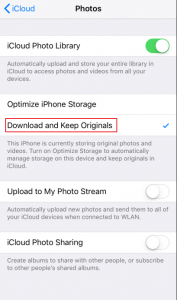 Disable iCloud Photo Library: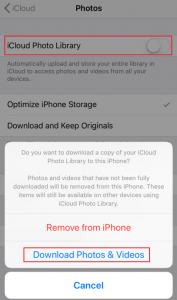 Any other problems for iTools during your operation, please go to our customer service for solutions.
Know more about thinkskysoft and iTools, please click here.