We have got a major update in the iTools version 4.3.2.5 that named "Virtual Location". Based on the feature, you can simulate location of iPhone to anywhere. Moreover, you can run it on your any iOS version without jailbreaking!
Itools is an all-in-one solution for iPhone/iPad/iPod management. It can help you to backup, transfer almost everything including contacts, Apps, photos, music, videos, books, files and documents. It can transfer the contents from your iOS devices to windows computer or Mac within just a few clicks and vice versa. iTools is compatible with all versions of iOS devices, including iPhone of any models, iPad and iPod. iTools can be installed on both windows computer and Mac.
Download iTools (iTools for windows, iTools for Mac) to have a try. If iTools really helps you a lot, please don't hesitate to buy it on our official website.
Since Apple company released iOS10 , no official tool can support jail breaking iOS10 currently. Not to say the latest iOS11. So, How to simulate location on iOS11 without Jailbreak? iTools' new feature " Virtual location" can do that for you easily!
1.How to find " Virtual Location"
After connecting your iOS device successfully to iTools on PC, click "Tool box" , you can see the "virtual Location" button.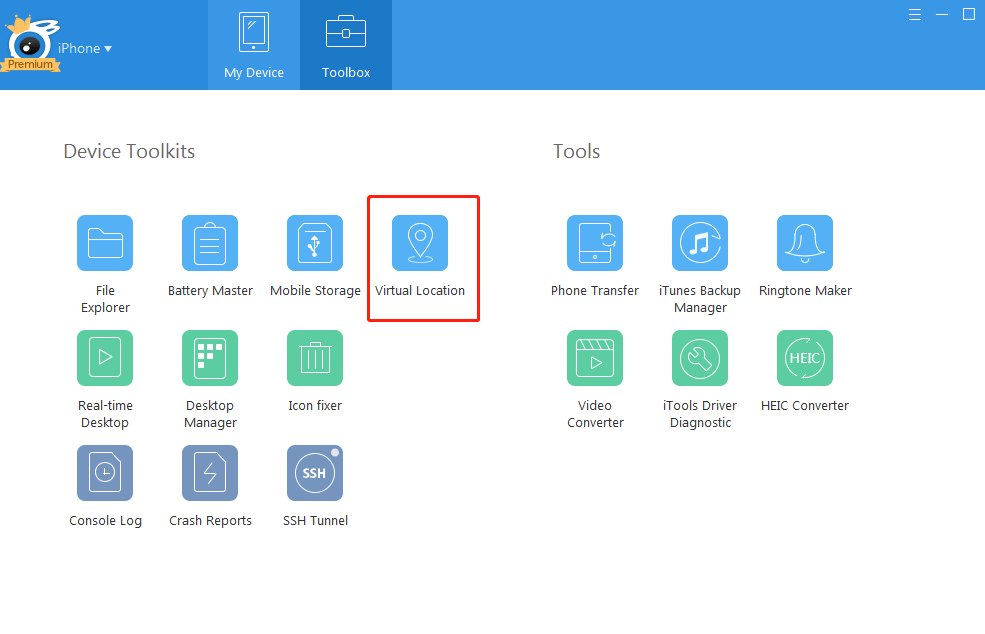 [Tips]
Developer Mode will be activated on your phone, and it will disappear once you reboot your phone.
2. How to simulate location?
You can locate your place on the Google Map. Input the name of the location of coordinates in the search bar or simply click on the map, Hit the "Move here" button. Done!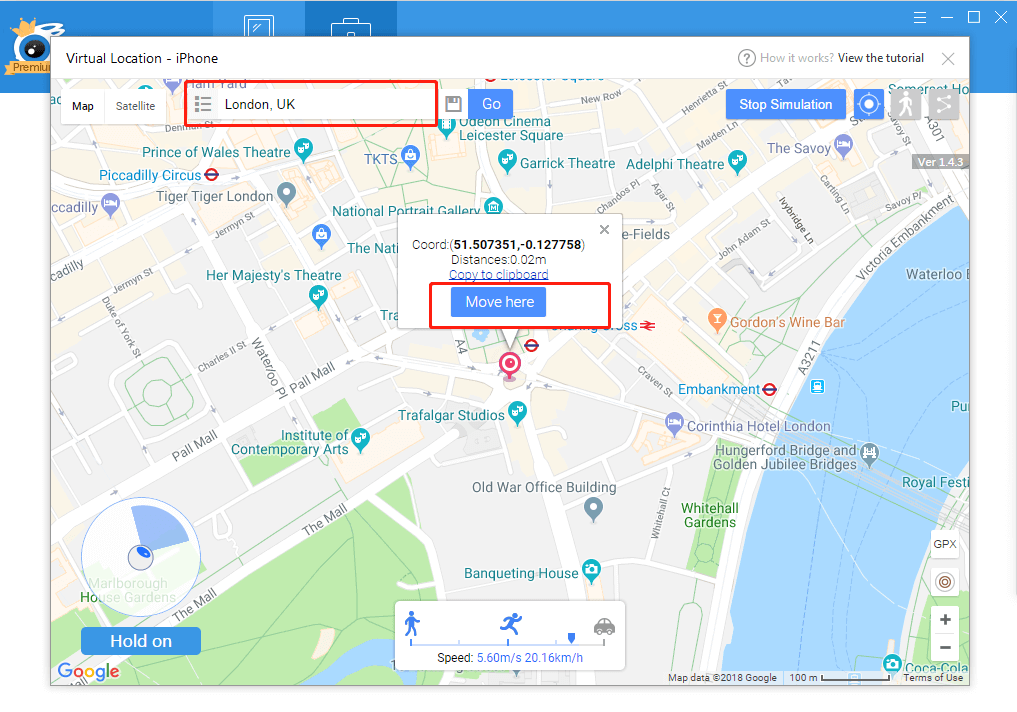 There are lots of improvements refers to virtual location lately:
Add pin mode for setting your route
Support AutoLoop Mode(cycle)
Customize and display walking speed if you`re using walk or pin mode.
Support virtual joystick to control your direction
Customize the times of cycle
Favorite list: save your favorite location on this list for further use
Import/export GPX file(Drag it into window)
Save speed setting on different modes
Set unlimited pins on Pin mode
Provide repeat mode&cycle mode to choose
Continue GPX route from stop point / New way to import GPX file via GPX button
Arrange location list by time sequence/alphabetical order; Sort location list with folder; Export/import location list.
….etc.
To know more about new updates and learn how to operate those new features please refers to How to fake gps on iOS
3. How to stop it?
Click the button of "Stop Simulation" to recover your real location that costs a few minutes. The best and fastest way to recover the data is to reboot your iPhone.
Any other problems for iTools during your operation, please go to our customer service for solutions.
Know more about thinkskysoft and iTools, please click here.