Thinksky is a leading software company devoted itself on the development of digital contents and applications for iOS devices. It announces that its flagship product, iTools, now supports one click switch from old iPhone to new iPhone. You can transfer to new iPhone in an easier and quicker way.
As a completed content management tool for iOS devices, iTools has accompanied the progress of iOS device since iPhone3. It helped more than 10 million iOS users to manage their iOS devices in an easier and smarter way. iTools can manage the content of iOS devices. It can also transfer and backup nearly everything on your iOS devices including music, photos, contacts, files, videos, Apps.
iTools is compatible with all the iOS devices, including iPhone of any models, iPad and iPod and it can be installed on both windows computer and Mac. Download iTools (iTools for windows, iTools for Mac) to have a try as it is easy to operate both for new users and advanced users. If you find it helps you a lot, you can buy it on our official website, so you can enjoy all the function of it for lifetime.
Apple company release a new model of iPhone every year, many loyal users of iPhone will join the parade of catching up. Quick switch from old iPhone to new iPhone becomes necessary. How to transfer all the contents of your old iPhone to your new one without any data lost? iTools provides an easier and quicker solution for all the iPhone users. iTools will make your new iPhone as familiar as your old one.
Highlights of iTools Phone transfer function:
One-click transfer to new iPhone
Click "Toolbox" on the menu bar, then you can see the "Phone Transfer" icon on the interface.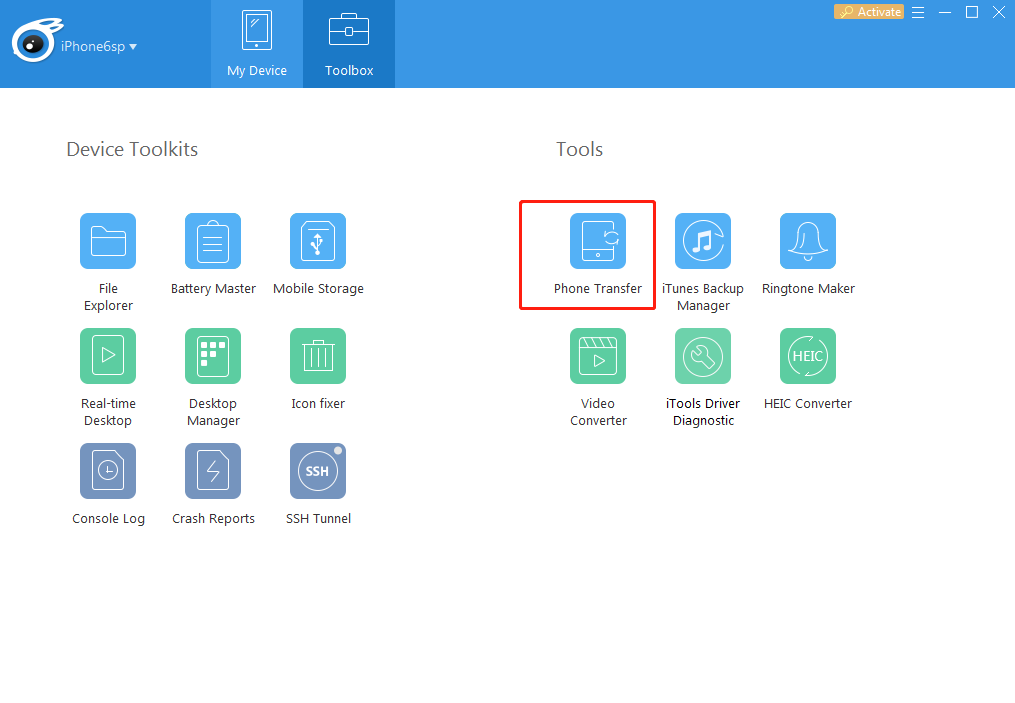 Click the "Phone Transfer" icon, you will see the interface below: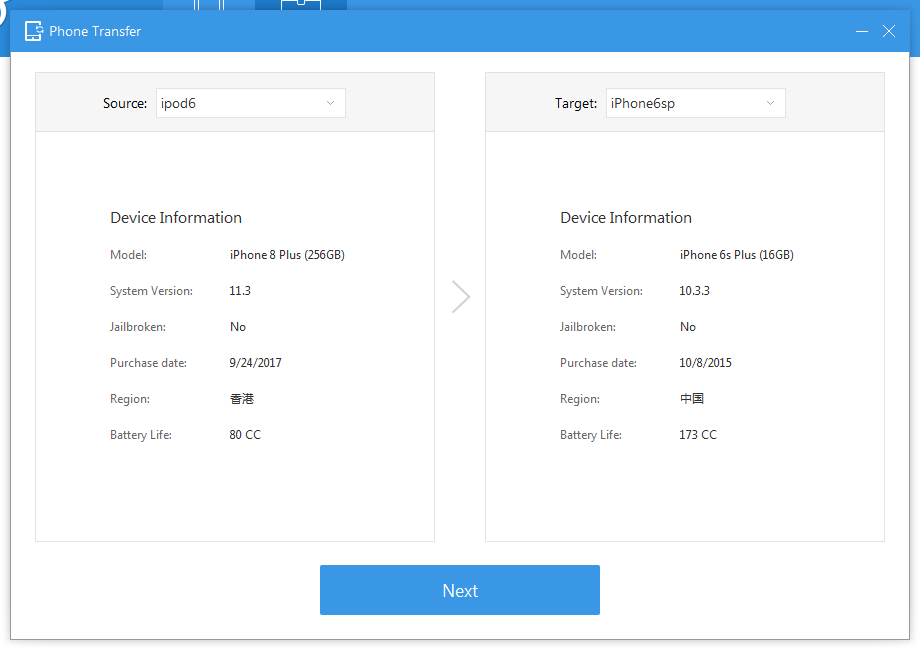 Connect your old iPhone on the left and your new iPhone on the right. Now you can start to move everything from your old iPhone to your new one.
Complete content transfer to new iPhone with no data lost
After quick switch to your new iPhone, you will find all the data of apps keeps intact on your new iPhone. Even the state of browser keeps the same as the old one. Needless to say the complete and perfect switch of photos, videos, music, apps, books, contacts, and files.
You can even switch the contents selectively.
During the transfer process, you can even choose the music, videos, books transfer to your new iPhone as you wish. But, if you only want a full switch, you can just ignore it and continue.
Apply to the latest iOS 11 with our newest iTools4
Now, our newest version iTools4 can apply to the latest iOS version: iOS 11.
After phone transfer process, all the contents on your old iPhone will overwrite the contents on your new iPhone. If your new iPhone is completely vacant, please ignore it. If you already used your new iPhone, please backup the data on your new iPhone first, then you can go through the one-click-switch process.
We sincerely hope our users enjoy a happier Apple life with our iTools. It  is our internal motivation to keep hard working and make iTools a perfect gift for you.