When you get a new iPhone, like the latest iPhone X, do you want to make your own personalized ringtones? Or when a most popular song comes out, are you thinking about making it as your own ringtones? Making a favorite song as your ringtone is easy for android users. But for iOS users, it becomes hard and tedious. So, what can we do if we are bored with the pre-installed ringtones on iPhone? Here we introduce a perfect iPhone ringtone maker: iTools. You can customize your own ringtones easily and quickly just in a few clicks.
As we all know, since iTunes 12.7, Apple no longer provides ringtone making and managing in iTunes. If iPhone users really want to set a personalized ringtones, you have to turn to other iPhone ringtone maker tools. iTools is a professional iOS content management software, except for ringtone making, it can also bring you a lot of convenience in your Apple life. Download iTools (iTools for windows, iTools for Mac) to have a try.
Features of iTools:
Transfer almost anything including music, voice memos, videos, photos, documents, books, files, Apps to your computer just in a few clicks.
Import music, videos, photos, books, contacts, and files from computer to your iOS devices without any data lost.
Manage all the contents on your iphone with ease.
Back up almost everything on your iPhone to PC, either selectively or altogether just in few clicks.
Customize your own ringtones easily and quickly. 
Support transferring from old iPhone to new iPhone in one click.
Support virtual location, you can locate your iPhone anywhere you want just with a few clicks.
Simple and clear interface, suitable both for new users and advanced users.
Compatible with all the iOS devices, includes all models of iPhone/iPad/iPod etc.
Can be installed on both windows computer and Mac.
How to use the iPhone ringtone maker features of iTools?
Step1
After connecting iPhone with iTools, click "Toolbox" button on the menu bar, the below interface will display: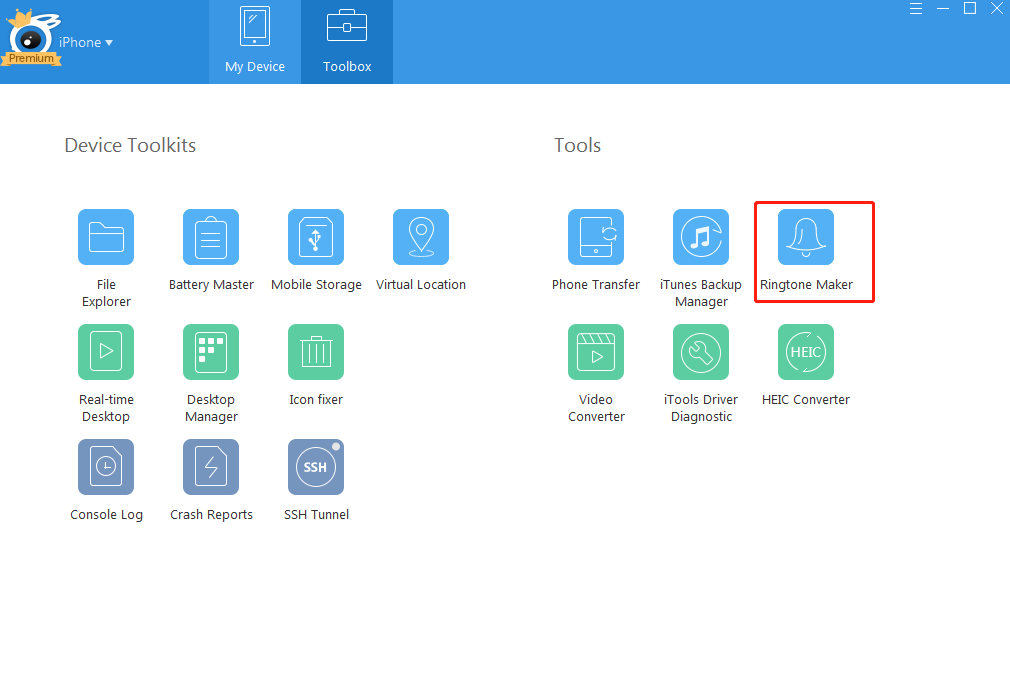 Step2:
Click "Ringtone Maker" button, you can see the follow interface: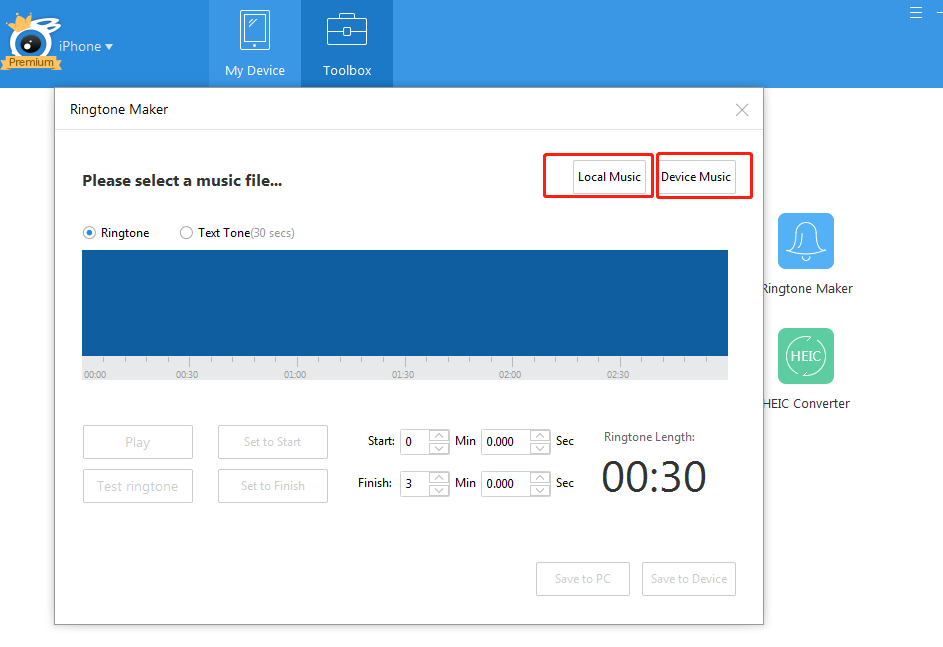 Click "Device Music" to select a song, the follow interface will display: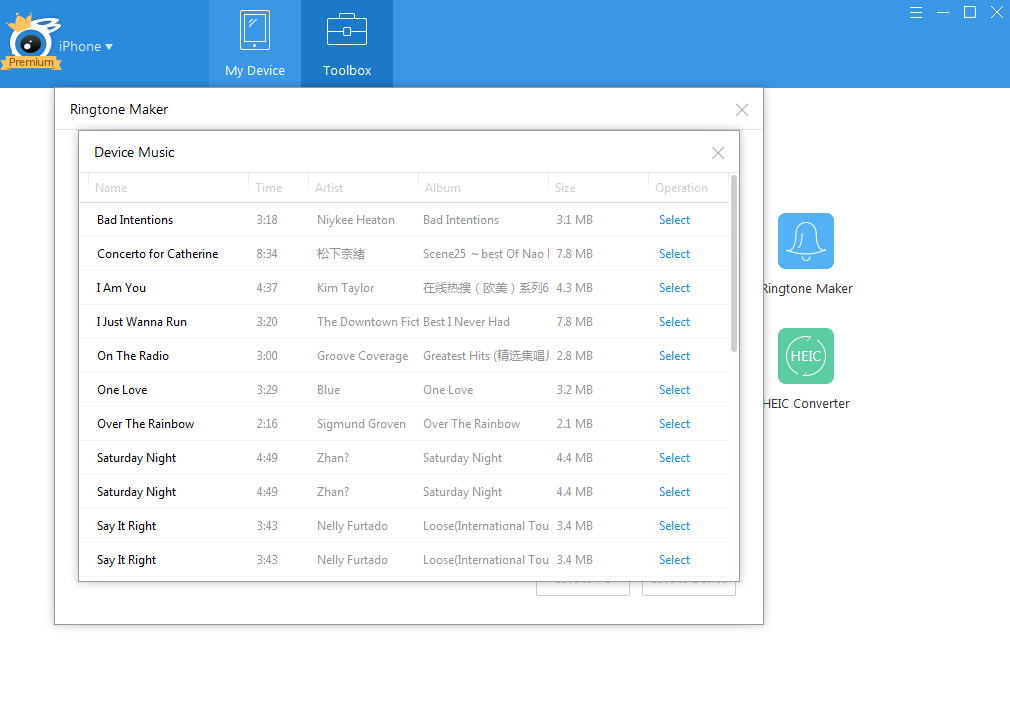 After selected a song on your iPhone, you will see the below interface: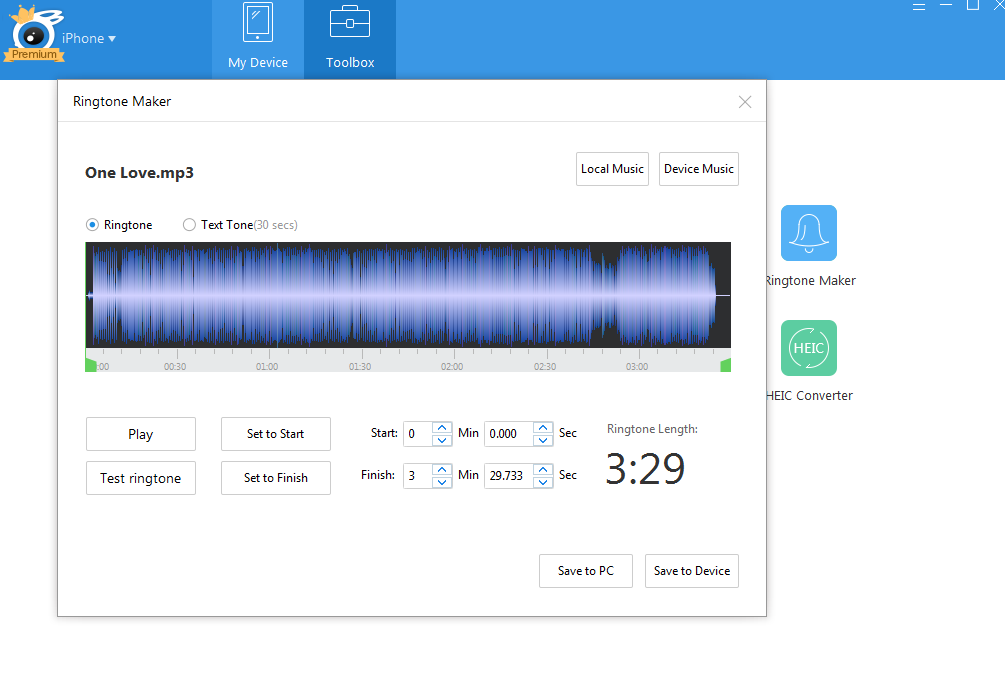 Step3:
Drag the green line on the start and end point, you can customize the length of your ringtones and choose which part of the song as your ringtone.
Then, click "save to Device", you can save the ringtone you just made to your iPhone.
Please download the trial version of iTools(iTools for windows, iTools for Mac)  to customize your own ringtones as you like. It is not only the best iPhone ringtone maker, but also the best content management tool. Have it and start to make your Apple life easier!
Any other problems for iTools during your operation, please go to our customer service for solutions.
Know more about thinkskysoft and iTools, please click here.