ThinkSky was established in 2011. It concentrate on the development of digital contents and applications for iOS devices. iTools, our first software solution, was a completed content management tool for iOS devices. itools can help users to backup, transfer contacts, Apps, photos, music, videos, books, files and documents from all the iOS devices to PC with just a few clicks and vice versa. Today, iTools proudly announce that it gives a perfect solution to make ringtones for iPhones users.
iTools is compatible with all the iOS devices, includes iPhone of any models, iPad and iPod. It can be installed on both windows computer and Mac. Untill now, iTools has helped more than 10 million iOS users to manage their iOS devices. iTools made users' apple life happier and easier. But we never cease to improve iTools and make it better.
Imagine every time someone's iPhone rings, you have to take out your iPhone to check if it is yours. You don't have much choices when you select your ringtones. Which enables everyone uses the same ringtone all the time. Many iPhone users are really upset about the limited ringtones on iPhone. They can't even make ringtones of their own on iPhone directly. Some of them tried to make ringtones via iTunes but they soon found it really inconvenient and time-consuming.
"Our only target is to satisfy our users in every aspects and solve all the problems for our customers", said the founder of thinksky Mr.Feng. "Now with the efforts of our technique development team, iTools can help users to customize their own ringtones just within a few clicks. Our customers will never get embarrassed when their iPhone rings among crowd. Because they now can make their own personal ringtones easily."
Highlights of iTools ringtone maker function:
Super easy to make ringtones in three ways:
First way: After connecting your iPhone to computer successfully, you can see the "Ringtone Maker" icon on the home page of iTools. Click it start to make ringtones.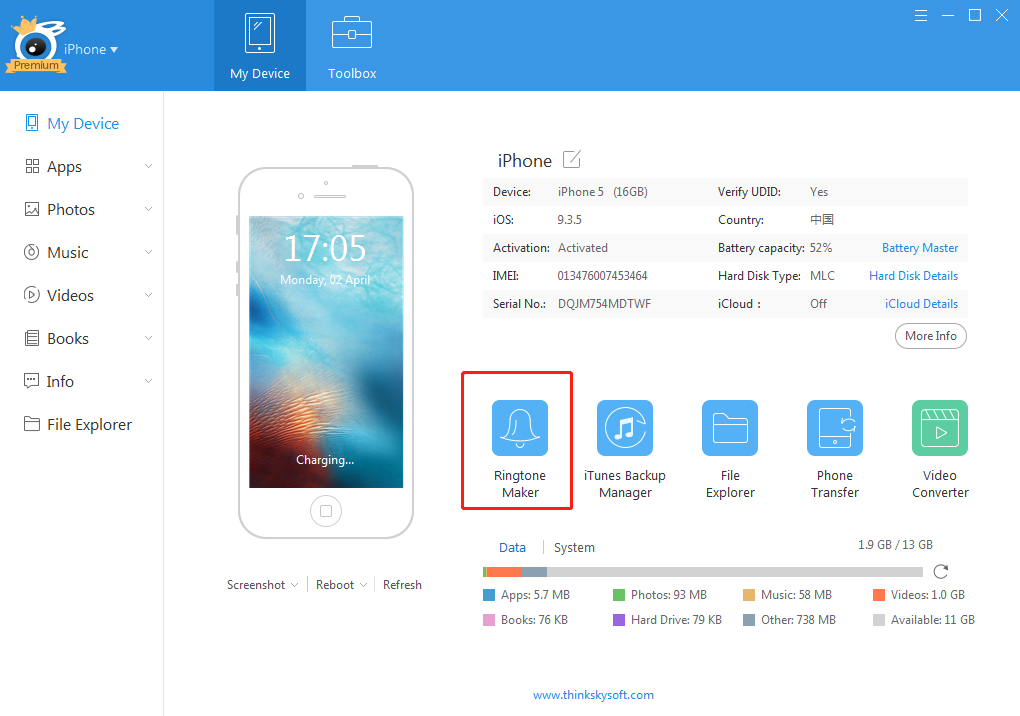 Second way: Click the "toolbox" button on the menu bar, you will see the "Ringtone Maker" icon on the right side of the interface. Click it start to make ringtones.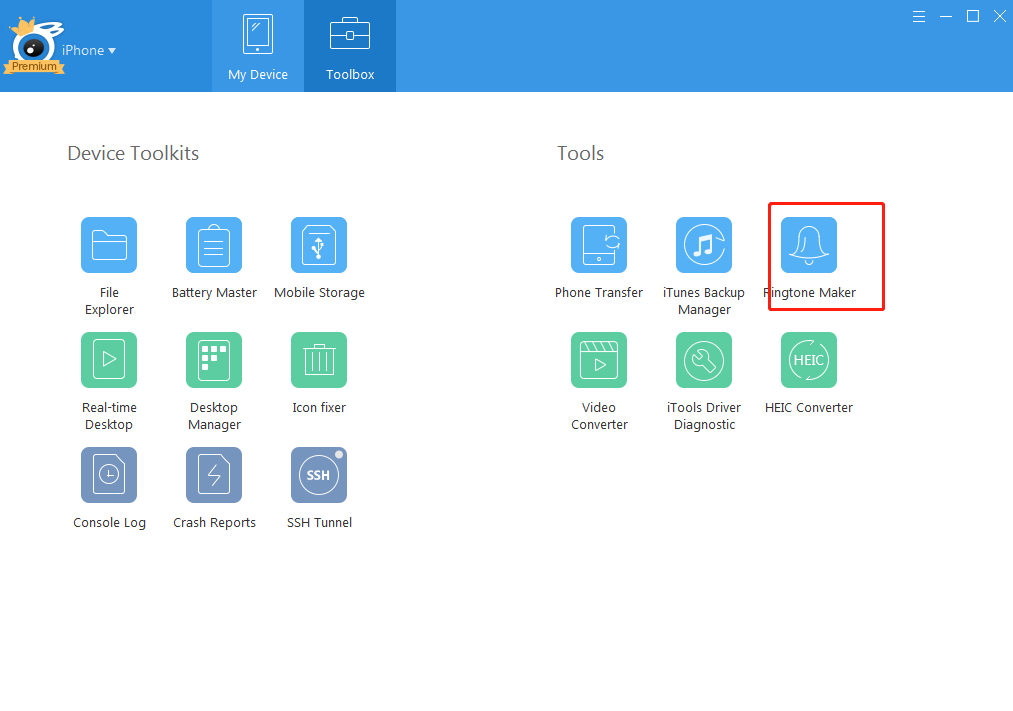 Third way: Click Device>Music>Music, you will see the "Ringtone Maker" icon on the navigation bar. Click it start to make ringtones.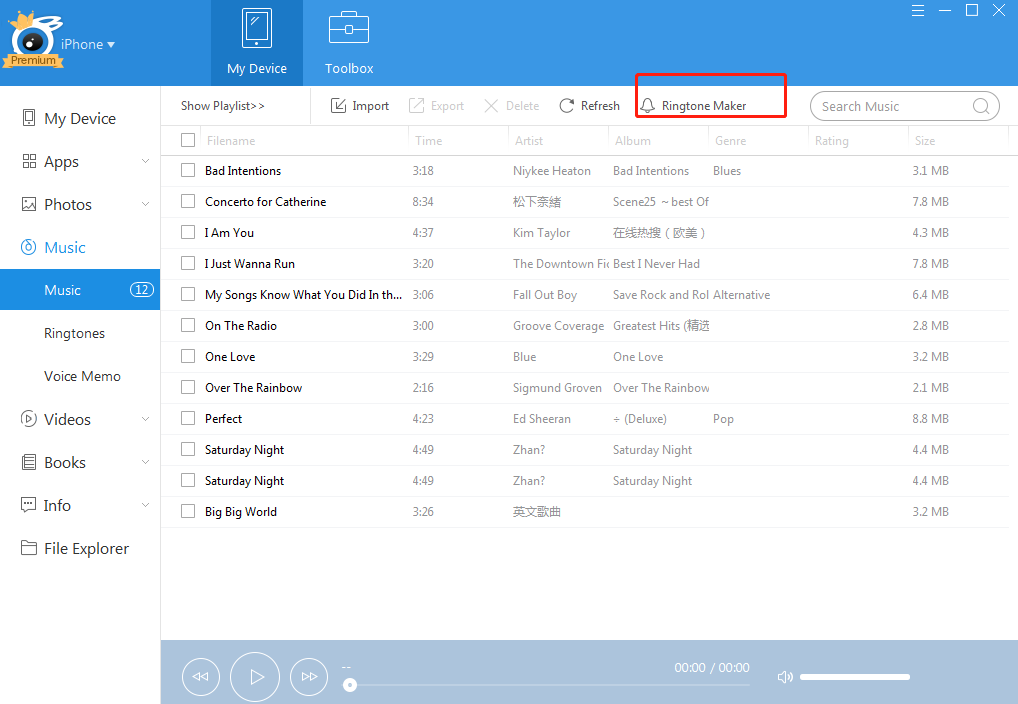 If you just want to make ringtones for your iPhone after you launch iTools on your computer, you can directly find the "Ringtone Maker" icon on home page of iTools easily. Then you can start to make your own ringtones.
If you want to check and manage your music and playlist first, you can choose the third way to make ringtones.
Music on iPhone and music on computer are both available to make ringtones
You can choose the songs on your iPhone or on your computer to customize a ringtone for you as you wish.
No length limits are required for a ringtone.
Some other iOS management software has different length limits for a ringtone, but not for iTools. You can customize the starts points and end points of your ringtone on your favorite music without length limits.
Make a special text tone for your iPhone easily.
iTools can not only helps you to customize your ringtones, but also makes it super easy to have a special text tone. But the text tone has a limit of 30 seconds.
Easy and convenient to find your ringtones and text tones on your iPhone.
After you saved the customized ringtones and text tones on your iPhone, the ringtones and text tones will automatically go to the "ringtone" and "text tone" category on your iPhone. You will find them easily when you want to change your ringtones and text tones as usually.
We have iTools for windows, iTools for Mac, please download iTools(iTools for windows, iTools for Mac) t to have a try. It is easy to operate both for new users and advanced users. After you feel good about our iTools, you can feel free to buy it on our official website.
Any other problems for iTools during your operation, please go to our customer service for solutions.
Know more about thinkskysoft and iTools, please click here.