ThinkSky is established in 2011, focused on the development of digital contents and applications for iOS devices. iTools, our first software solution, is a completed content management tool for iOS devices. It now launches its newest updates: virtual location function.
Itools can help you to backup, transfer almost everything including contacts, Apps, photos, music, videos, books, files and documents. It can transfer the contents from your iOS devices to windows computer or Mac within just a few clicks and vice versa. iTools is compatible with all versions of iOS devices, including iPhone of any models, iPad and iPod. iTools can be installed on both windows computer and Mac.
Untill now, iTools has helped more than 10 million iOS users to manage their iOS devices and made their apple life happier and easier. But we never cease to improve iTools and make it better.
Download iTools (iTools for windows, iTools for Mac) to have a try. If iTools really helps you a lot, please don't hesitate to buy it on our official website.
At present, virtual location becomes a very popular feature of many Apps. Many people are searching the way to virtually locate them. Since Apple company released iOS10 , no official tool can support jail breaking iOS10 currently. How can we set virtual location on  iPhone? iTools now can help you to do that.
Highlights of iTools' virtual location feature:
1. Easy and quick to operate:
Click "Toolbox" button after you connecting iPhone to PC successfully. You will see the following interface.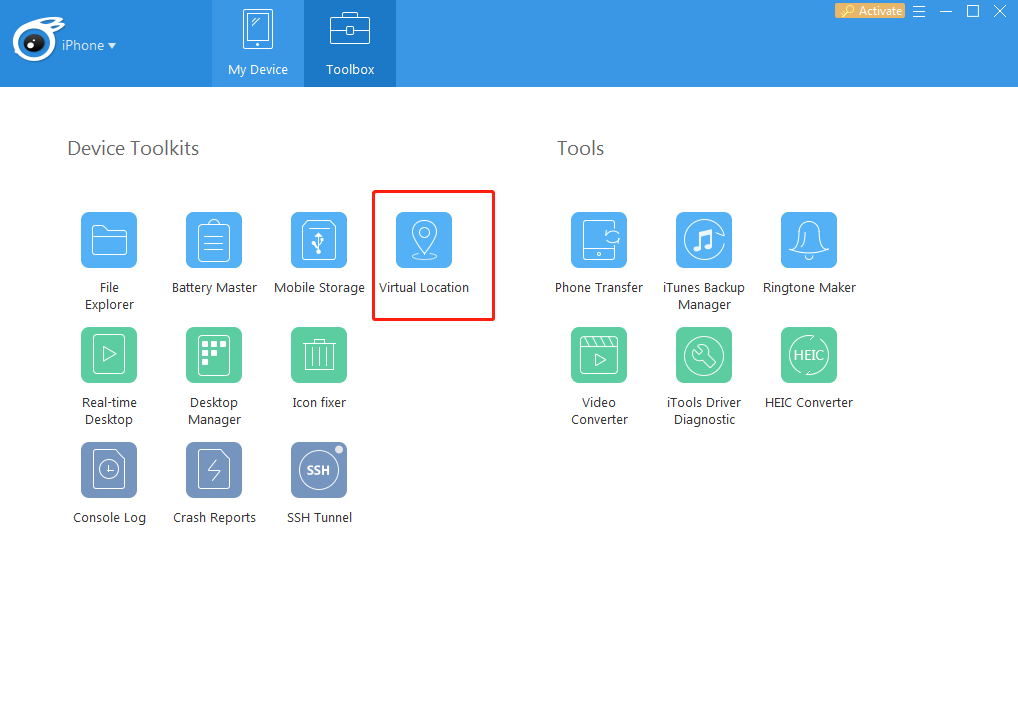 2. Locate anywhere you want.
Click "Virtual location" to start your virtual location tour. Type the name of location you want to locate yourself and click "move here".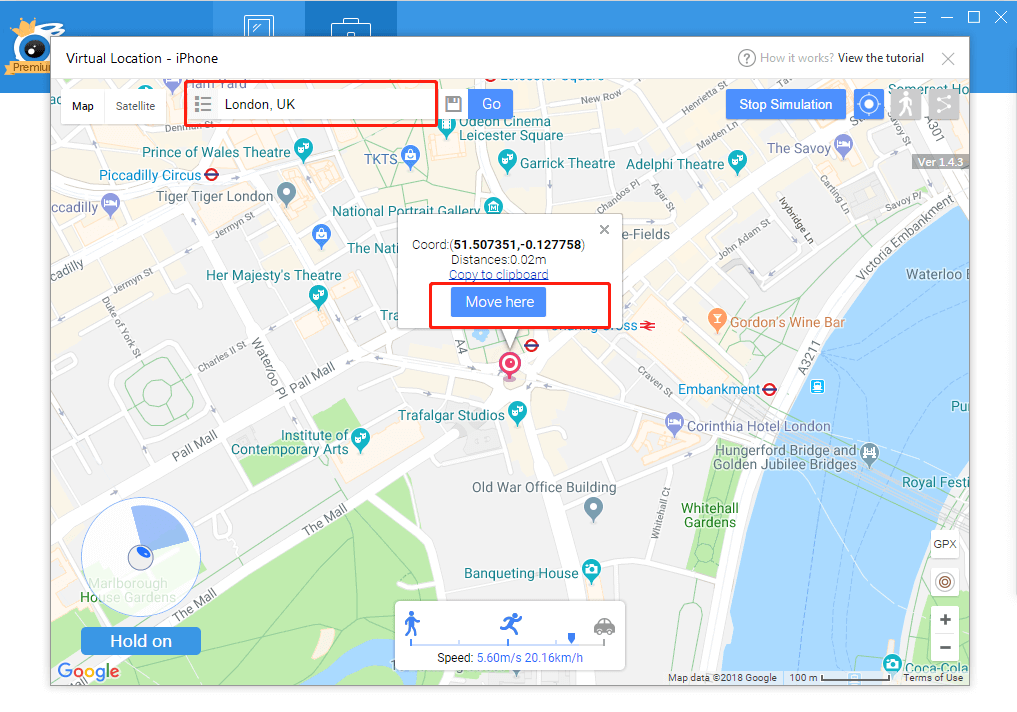 3. Three modes: move mode(with joystick) / walking mode/ pin mode with adjustable speed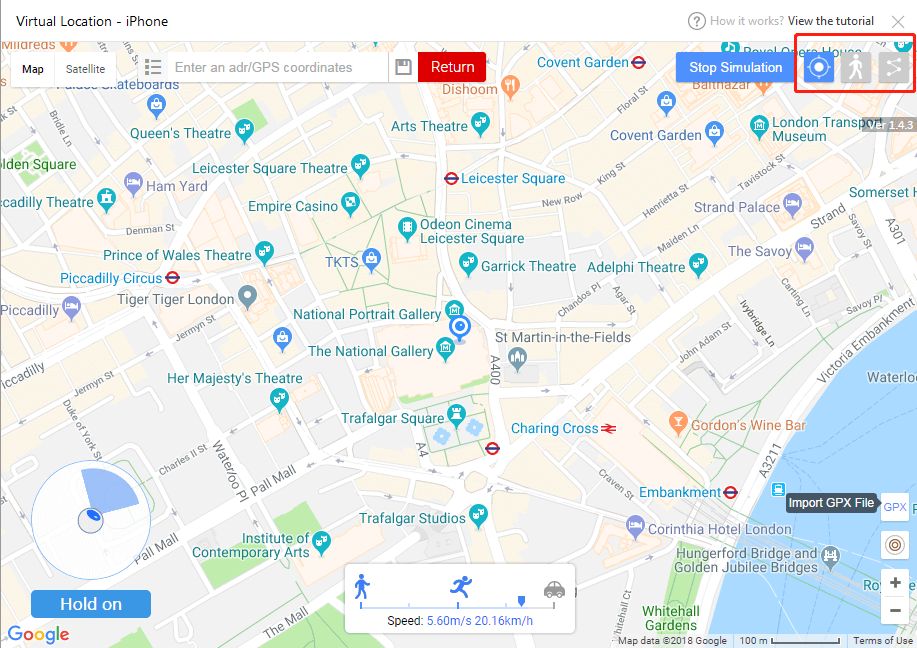 Move mode: you can use the joystick on the bottom left corner to move to the exact point you want to go. And the speed is adjustable on the bottom.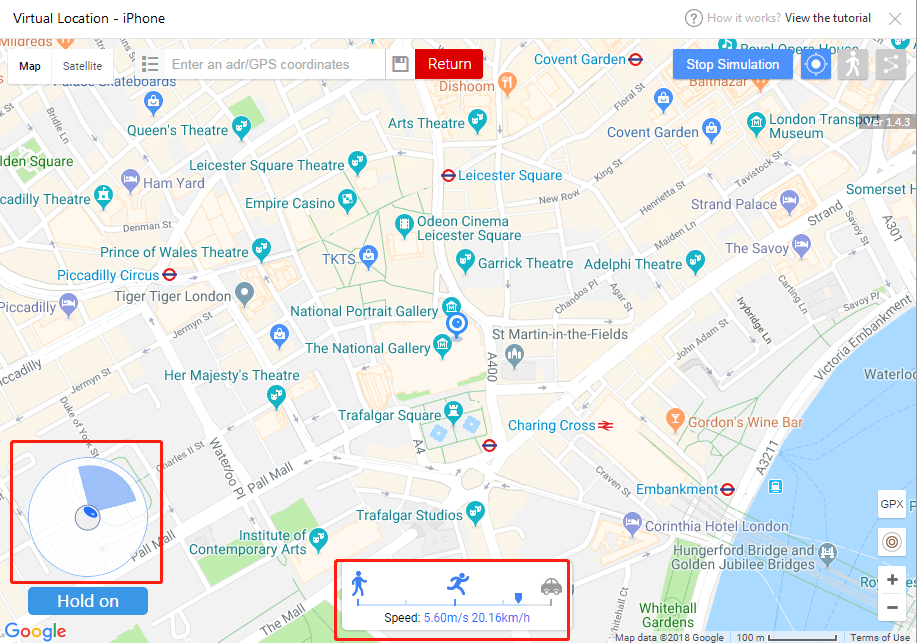 Walking mode: click the human shaped button to enter into walking mode. Click the point you want to walk to, and click" move here". You can see the route distance and straight line distance from A to B. and you can adjust speed on the bottom.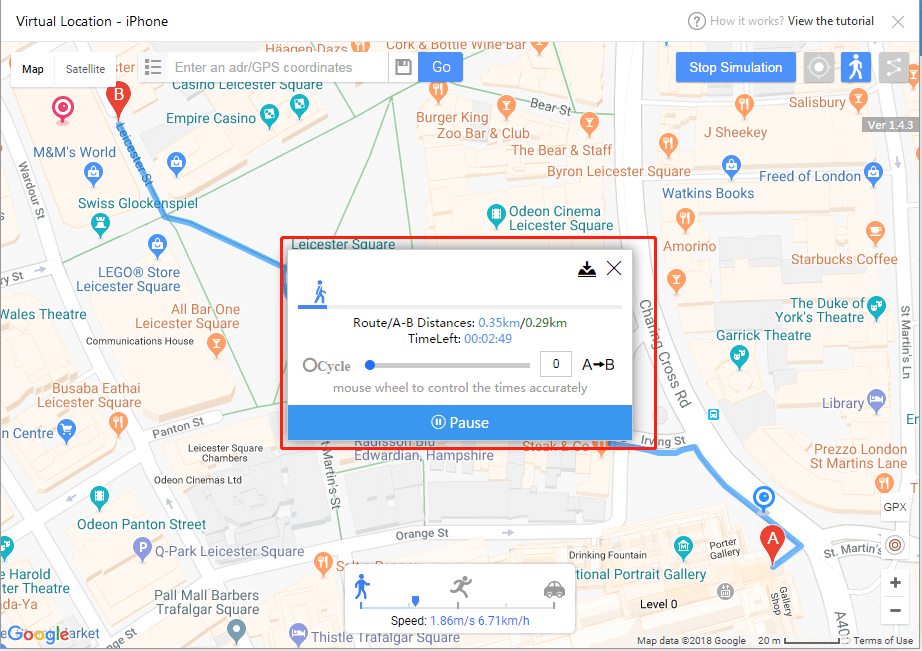 Pin mode: click pin mode, and click the map to make many pins (you can make unlimited pins) to set a route you want. Click " move here". You can see the distance and adjust the speed.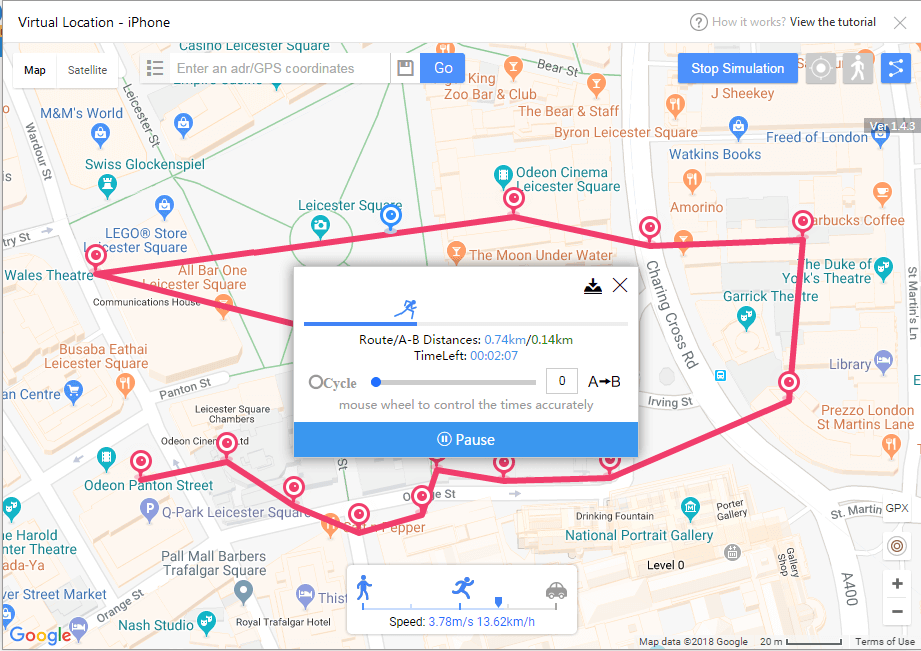 Note: if the A to B straight line distance is beyond 1km, the figure will be in red.
4. Support auto loop from 1 time to unlimited times / choose repeat mode and cycle mode as you wish
On walking mode and pin mode, you can click "cycle" to repeat from 1 times to unlimited times. Adjust the times with clicking or with mouse wheel. And you can click to switch repeat mode or cycle mode.
Repeat mode: A to B
Cycle mode: A to B, then B to A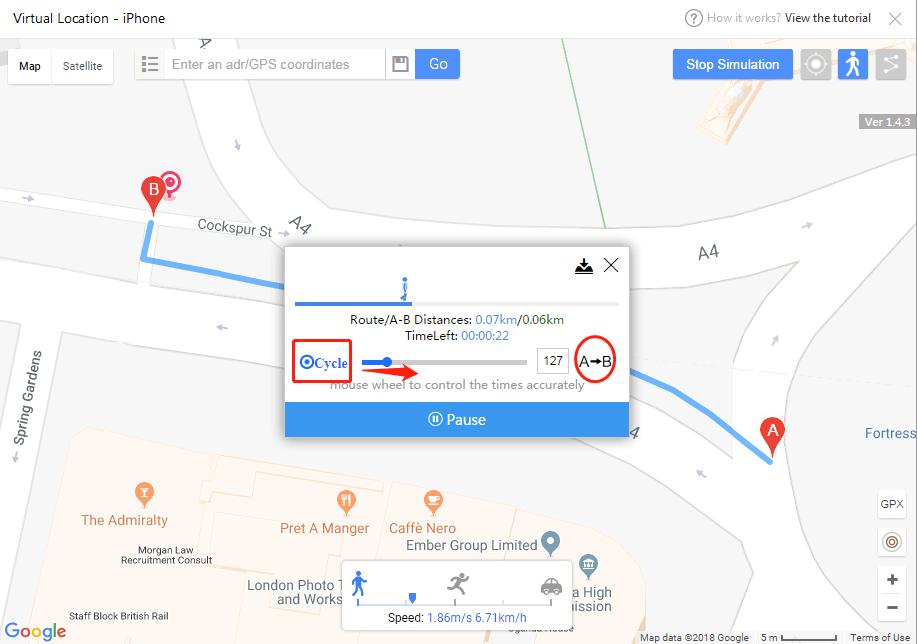 5. Import/export GPX file / continue GPX route from stop point.
Import GPX file by dragging the file into the virtual location window or click the GPX button on the right side of the window to import file.
Export GPX file from the button in the middle.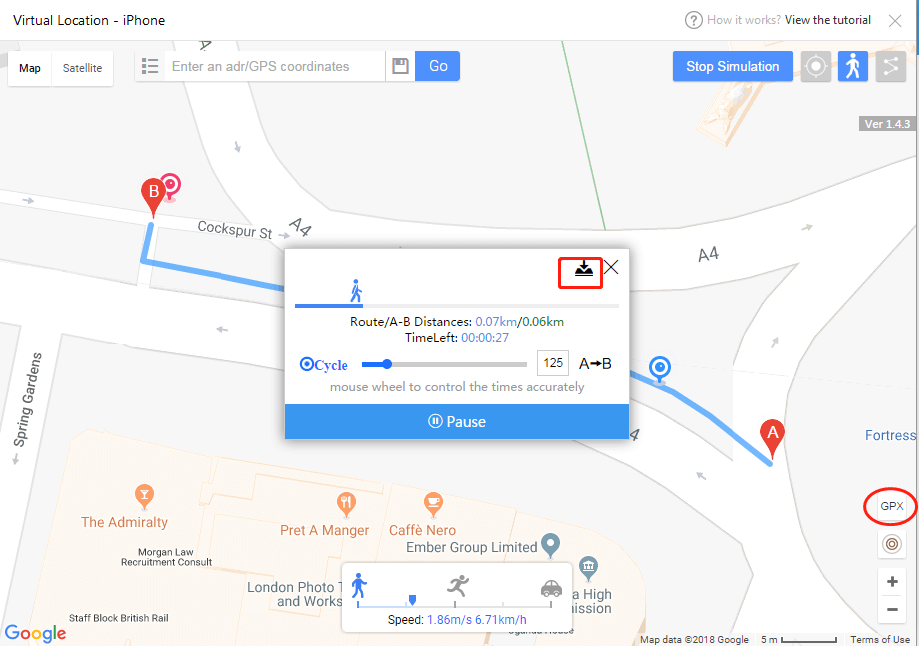 Besides, each time you import the GPX file, you can choose to start the GPX route from the start point or start from the stop point of last time.
6. Save/grouping/import/export favorite location list
Save and group the favorite location: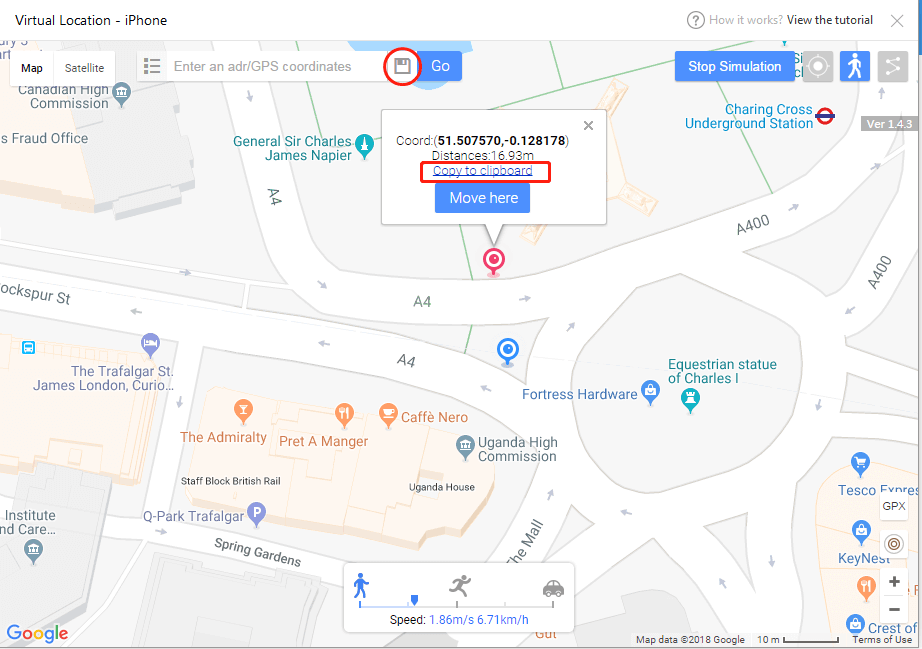 After click a point, copy the coordinates by simply click the "clip to clipboard" button. and click the save icon beside the search bar.  You can see the coordinates has been on the frame, you just need to input the coordinates name and group name.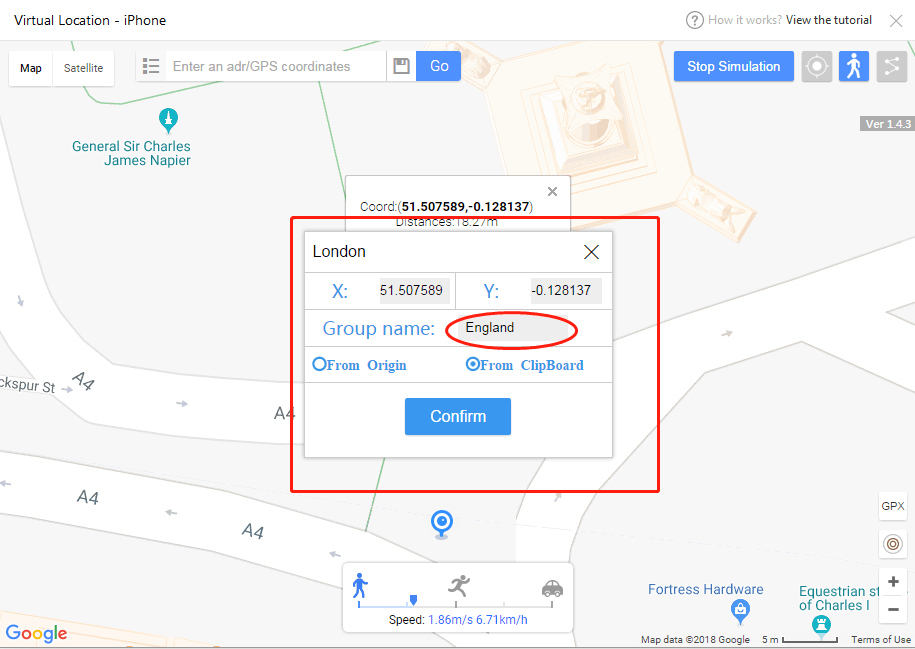 Import/export favorite location list and check the group of locations: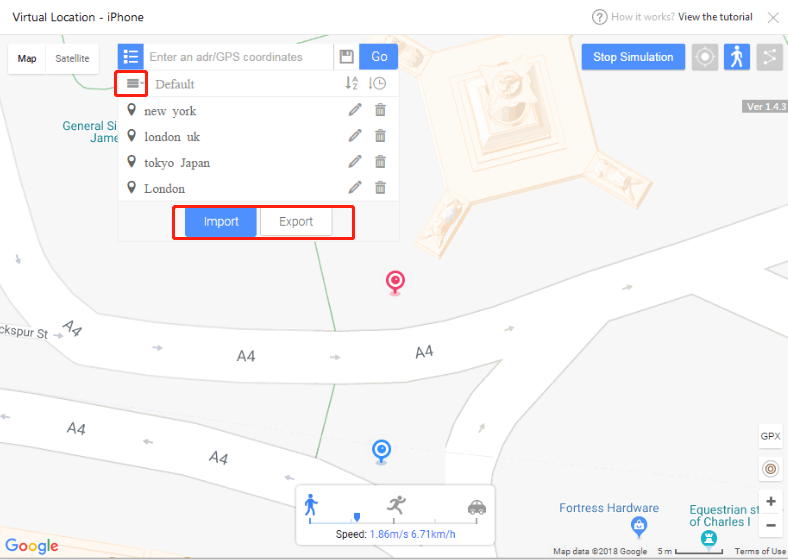 7. Quick return to the previous location
On move mode: after you click "move here", if you want to return to the previous position quickly, you can simply click "return" button.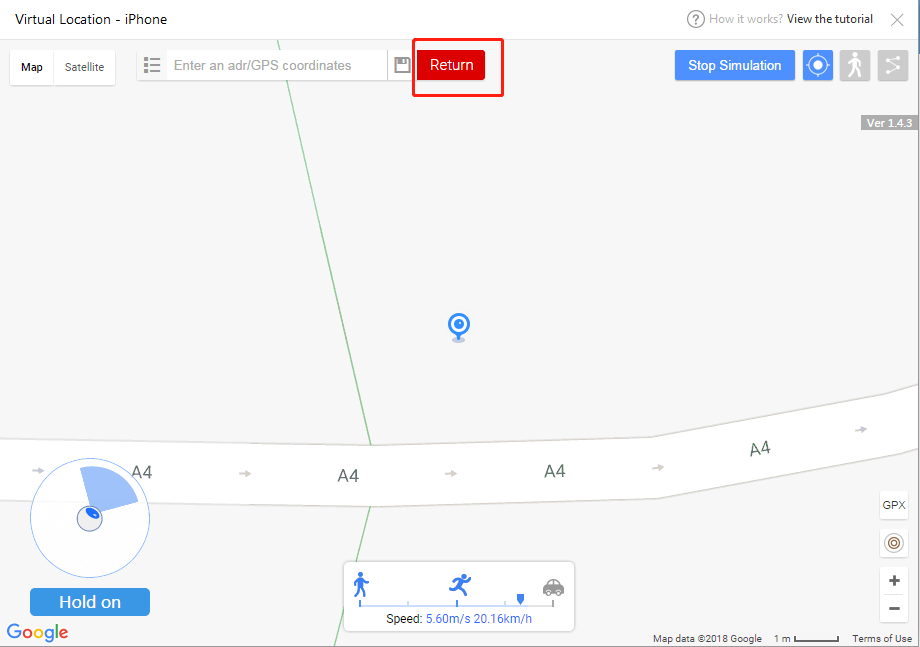 8. Online tutorial and new-feature notification
Click the link on the top to view tutorial and new-feature notification.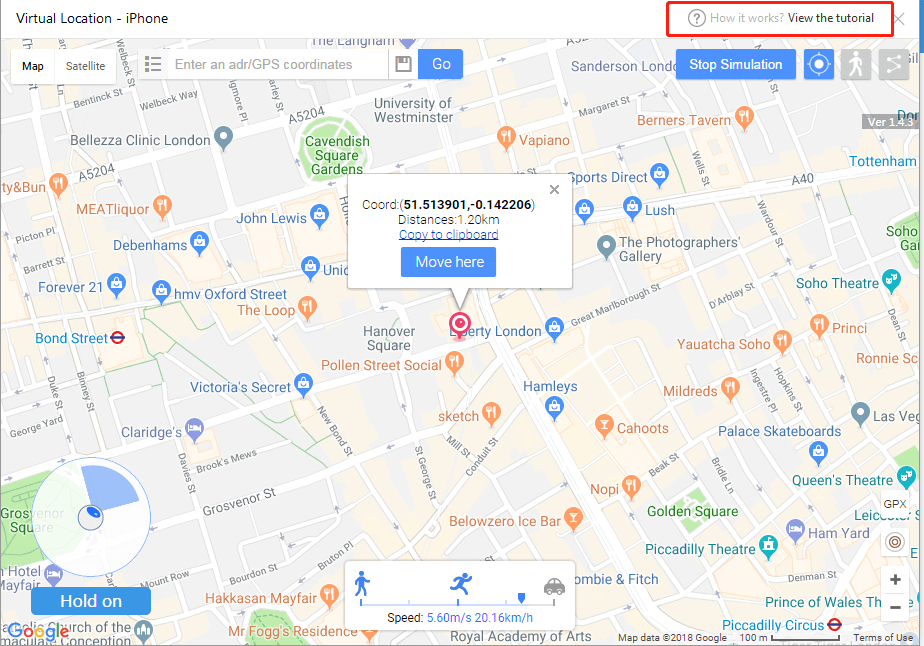 ThinkSky will always work hard to make your apple life better!
Any other problems for iTools during your operation, please go to our customer service for solutions.
Know more about thinkskysoft and iTools, please click here.