How to Use iTools
Welcome to the Quick Start Guide of iTools. Here you can know all the tutorials about how to manager your digital contents or
applications between iOS device, iOS device & Mac/Windows directly. If your questions or issues can not be fixed here,please
contact our Support Team(Normally you will get the feedback within 24 hours).
How to backup Apps on iPhone
As the memory of iPhone device is getting larger, and more and more Apps are available to download, batch management and backup have become necessary. More and more people are getting a habit of backup apps from iPhone to their computer from time to time just in case of all the emergencies.
iTools can not only manage and backup Apps on your iOS device in batch, but also can install the downloaded ipa file, and check the related files of App. iTools is compatible with all iPhone models including iPhone 3gs, iPhone 4/4s, iPhone 5/5s/5c, iPhone 6/6s/6plus, iPhone7/7s/7plus, iPhone8/8plus, iPhoneX, iPod, iPad. And It can be installed on both windows computer and Mac.
Interested in the one-click solution to backup apps on your iPhone? please download iTools (iTools for windows, iTools for Mac) to give it a try.
Connect your device
Please start iTools on your computer, and connect your iOS device after installed successfully.
By default, iTools can automatically detect your iOS device. If you didn't connect your iOS device to the computer, or your iOS device can not recognize, you will see "Connected but can't recognize" on the interface.
Several causes for unable to recognize the device:
Abnormal USB cable and interface. You need to change another USB cable to insert again or change another USB interface.
Driving component problems. You need to fix the driver.
For any other problems you can contact us for solutions.
After connecting successfully, please click Device>Apps>iOS Apps
And the follow interface appeared.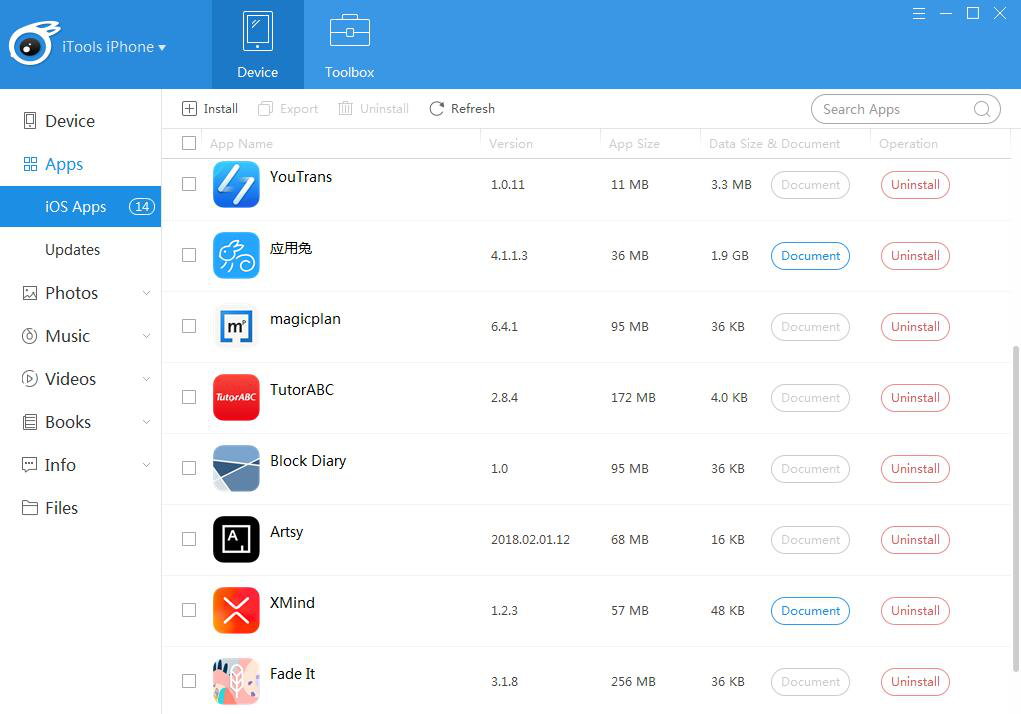 Check and edit Apps:
check: you can check the Apps' name, version, App size and file size.
More detailed information about "document"

, please check "Files".
If you want to know where the APP come from, please find the source below the APP's name.

Installation:
Click the "install" button

 , you can choose an IPA file in your computer to install.
If the IPA file version is too old or damaged, the installation would fail.
Export(one-click backup)
Select one or more APP.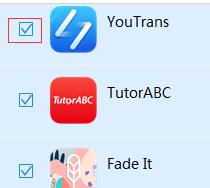 Click "Export" button

to start backup program.
If you haven't login your Apple ID on iTools before, the following window will pop out: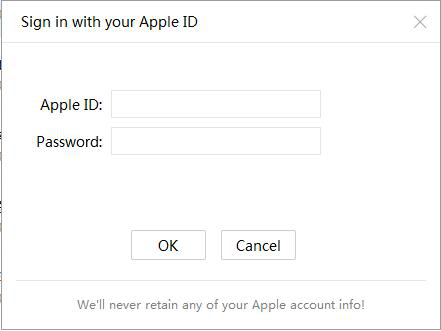 iTools needs to aquire the information of this APP through your ID again, and help you to backup to the local.
iTools will not remember your ID information if just use only once. So please take it easy and fill out your Apple ID.
If your App comes with a document, it will be exported together with the APP. If the "document" button is greyed out , it represents that you can only backup your app without the document.


Delete APP
Click the box before the APP you need to delete, or press the "ctrl" key on the keyboard to select more, then click the "uninstall" button to delete the needless app.
You can also right-click to delete it after you selected the APP.

Refresh Apps
Click the "refresh" button to reacquire the up-to-date information of the APP on your device.
You can also right-click to refresh it after you selected the APP.

Search APP
If you want to find the app you need quickly from all kinds of app on your device, please click the search frame and type the name of the APP in need.

To sum up, iTools can backup Apps from iPhone to your computer with just one click. It can also help you to manage your Apps on iPhone in an easy way. As it is compatible with all the iOS devices, no matter you uses the latest iPhone X, or iPad, iPod, iTools can always help you to manage and backup apps on your iPhone as you like. If you find this aritcle useful for you, please feel free to share it with your friends.
Any other problems for iTools during your operation, please go to our customer service for solutions.
Know more about thinkskysoft and iTools, please click here.