How to Use iTools
Welcome to the Quick Start Guide of iTools. Here you can know all the tutorials about how to manager your digital contents or
applications between iOS device, iOS device & Mac/Windows directly. If your questions or issues can not be fixed here,please
contact our Support Team(Normally you will get the feedback within 24 hours).
How to check battery health on iPhone
Performance of battery can be vital for the lifetime of a mobile phone. Many iPhone users want to know how to check battery health of their iPhone, so that they can have an idea of the battery life. iTools provides you the detailed information of battery on you iPhone, making it super convenient for you to know the battery health of your iPhone.
iTools is an professional tool to manage the content of iOS device. It can help users to backup, transfer all the contents including contacts, Apps, photos, music, videos, books, files and documents from all the iOS devices to windows computer or Mac within just a few clicks and vice versa. It is easy to use both for new users and advanced users.
iTools supports all iPhone models including iPhone 3gs, iPhone 4/4s, iPhone 5/5s/5c, iPhone 6/6s/6plus, iPhone7/7s/7plus, iPhone8/8plus, iPhoneX, ipod, ipad. it can be installed on both windows computer and Mac. Download iTools (iTools for windows, iTools for Mac) to give it a try.
Following is about the basic information you can check after connecting to your iOS device including how to check iPhone battery life.
Connect your device
Please start iTools on your computer, and connect your iOS device after installed successfully.
By default, iTools can automatically detect your iOS device. If you didn't connect your iOS device to the computer, or your iOS device can not recognize, you will see "Connected but can't recognize" on the interface.
Several causes for unable to recognize the device:
Abnormal USB cable and interface. You need to change another USB cable to insert again or change another USB interface.
Driving component problems. You need to fix the driver.
For any other problems you can contact us for solutions.
Screenshot, turn off and Eject
After successfully connecting to your device, the screen of the device would be synced to iTool. Now you can click "Screenshot" to capture the screen of your device and save.
You can also click "Turn off" or "Eject"on iTools to shut down or reboot the connected device.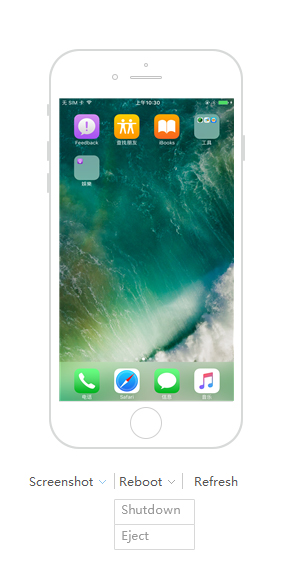 Basic information of the device
iTools can judge whether the device is in normal operation or not and whether your device is original or not. All the information about sales area, activation state and serial number will be on display.
Battery has already become a sensitive topic for iPhone. Do you want to know the battery in your device? How to check the battery health on iPhone?
iTools not only display the battery level in prominent positions in the "Device" interface, but also list all the important information about your battery in detail.
Please click "Battery Master" button.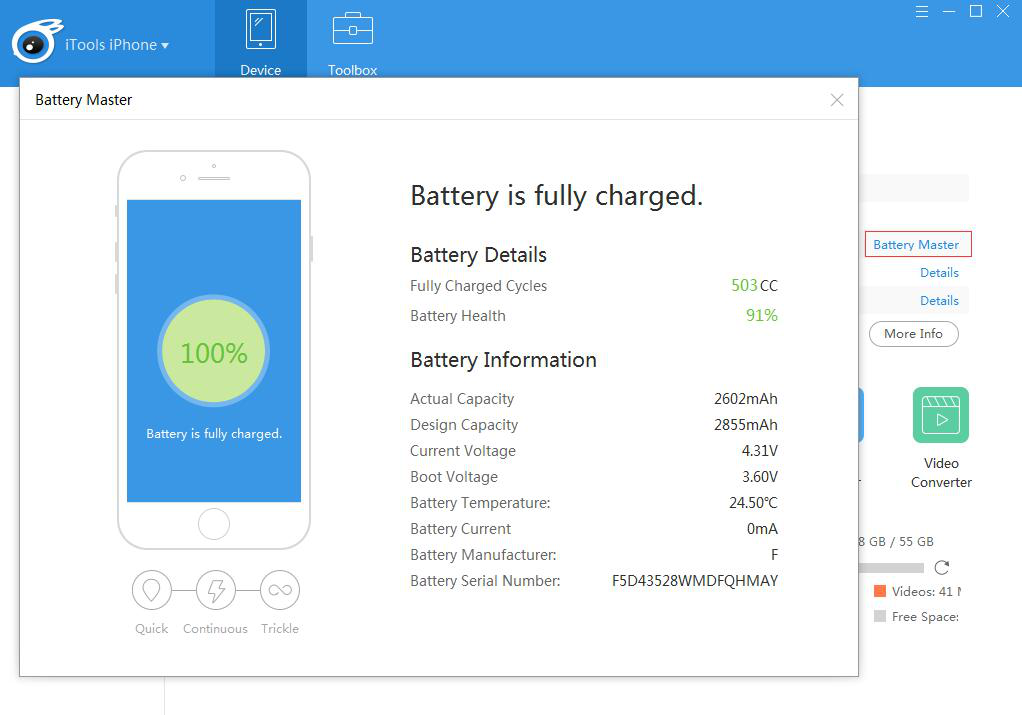 Here it listed all the information include how many times it charged, the capacity, the voltage, the manufacturer and the serial number. Knowing all these, you will have an idea of whether your battery is good or not and why and know the battery health of your iPhone.
Many users are not sure about whether you launched iCloud or not, and how much it included. Now you just need to connect your device and click "iCloud Details".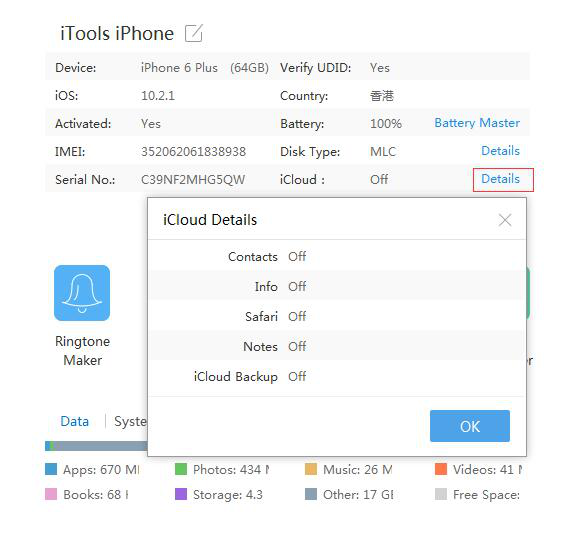 Now it's finally clear.
If you want to know more information about your iPhone/iPad/iPod, please click "More Info". Then, you can check more detailed information and you can even export the TXT file.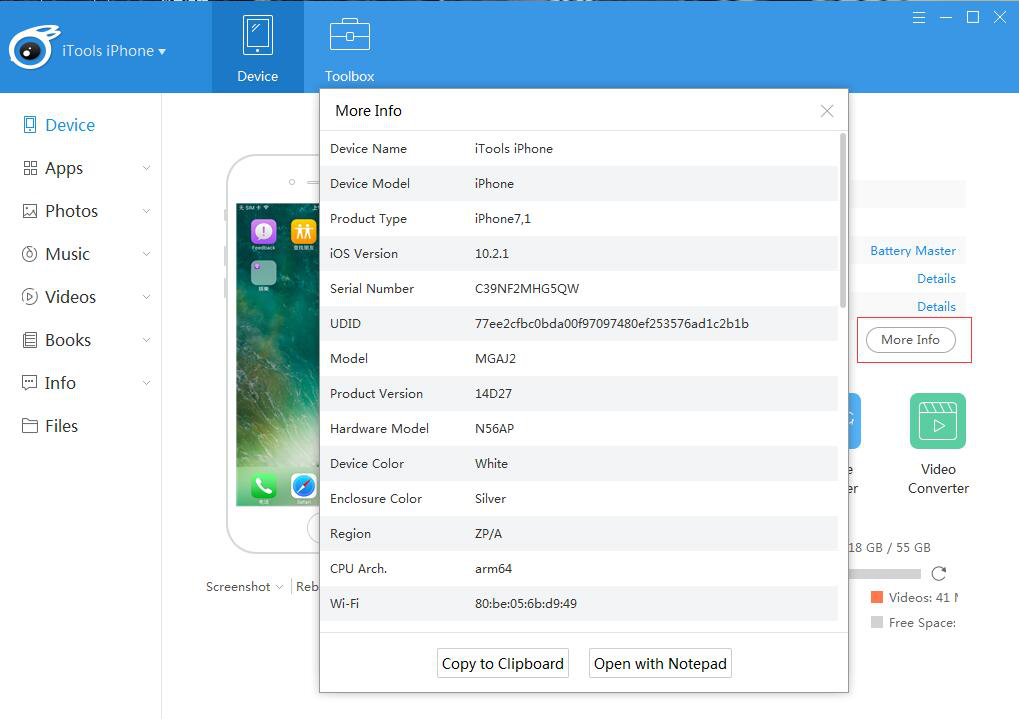 After used for a long time, your mobile phone always indicates that it's out of memory. Where did all the memory go?


It's way more convenient than checking it on your mobile phone, right?
Wish you an enjoyable trip with iTool!
To sum up. iTools can help you find out the genuineness of your iPhone, provide you the battery health and detailed battery information, and show you the memory allocation on your iPhone. And don't forget it, iTools is also a professional content manager of iPhone. I'm sure iTools can help you a lot in the future, please don't hesitate to have it! Download iTools (iTools for windows, iTools for Mac) to give it a try.
Any other problems for iTools during your operation, please go to our customer service for solutions.
Know more about thinkskysoft and iTools, please click here.