How to Use iTools
Welcome to the Quick Start Guide of iTools. Here you can know all the tutorials about how to manager your digital contents or
applications between iOS device, iOS device & Mac/Windows directly. If your questions or issues can not be fixed here,please
contact our Support Team(Normally you will get the feedback within 24 hours).
How to Manage Storage and Free Space 
How to manage storage is really vexing for most common iPhone users.  Still, keep looking for external hard disk or thumb drive to transferring a file? Well, now you only need iTools that can help you fix the issues simply and safely. I will show you the tutorials on how to get started, then expand the main operations to manage storage via iTools.
Notice :
Connect to Your Device
Install iTools into your PC, after your successful installation, please connect your iOS device to your PC with your lightning cable.
Wait until iTools successfully detect your iOS device.
If you haven't connect any device to your PC or your device is not recognized by the Windows, a message will pop up on the screen show "Connected, but unrecognized?"
There are a few causes that the your device is unrecognized.
Abnormal USB slot or your lightning cable is malfunction. Change another lightning cable or change another USB slot and try again.
Driver issue, please re-install or repair your driver.
If you still having issue after using the solution above, please contact our support
After connected to iTools, please select Device > Files > Common Folders > Storage
Now you can backup or move your device storage's files to your computer.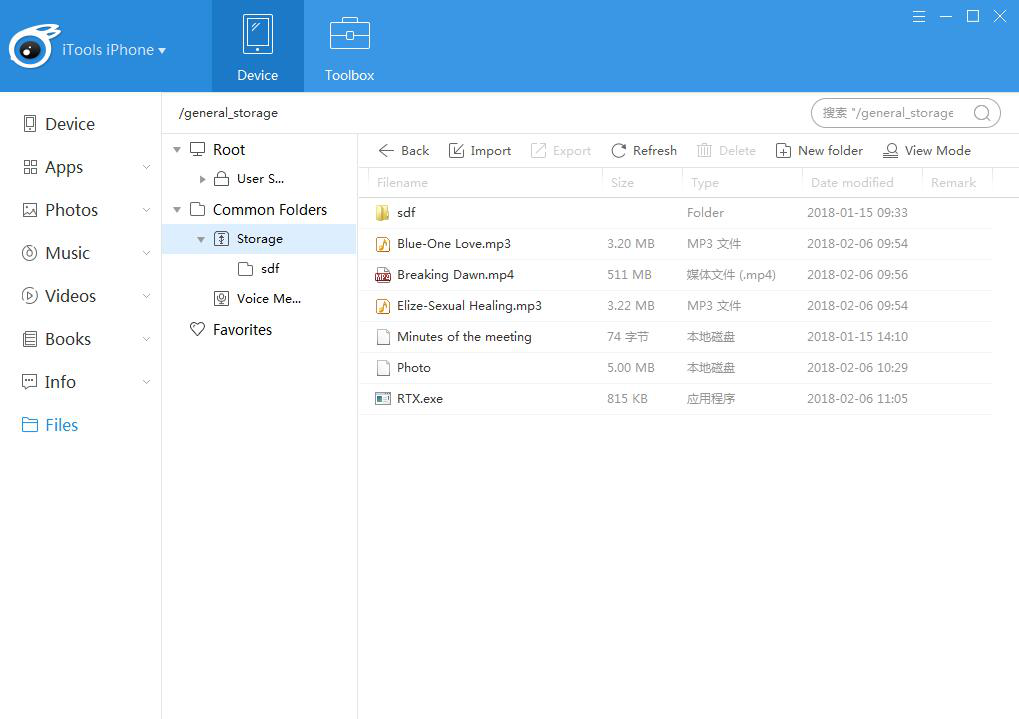 View & Edit your storage.
You can view your storage Filename, Size, Type & Date modified here.
At the same time, you also can choose a different View mode here.


Select one of the file and right click on it. You can choose Export, Copy Path, Delete, Rename and Property to proceed your operation.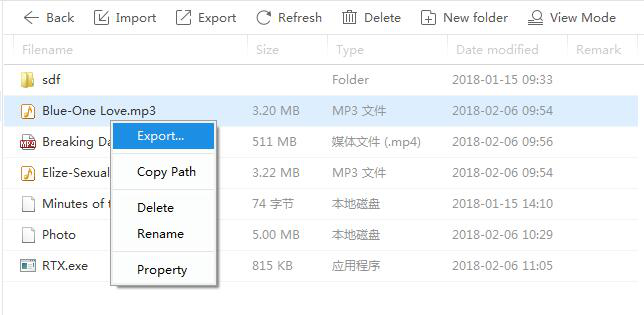 Export: Same feature as the Export on the top of the list, export your file to your PC.
Copy Path: You can copy the path from here easily, a message will notify you like the image below.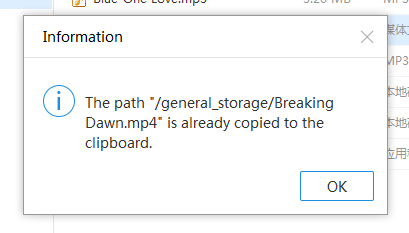 Delete: System will notify you for a double confirmation on deleting your files.Choose Yes or No to proceed.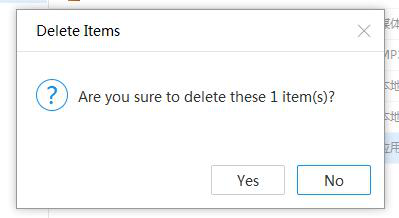 Rename: Select rename to rename the file you selected, edit and put a new name and confirm the changed. Simply click a empty space to cancel the rename features.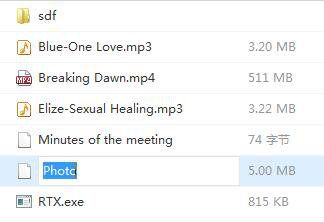 Import:
Click on the Import button on the top of the list, you can choose import by File or by Folder.
You can import any format of files, the system will notify you when the storage is full.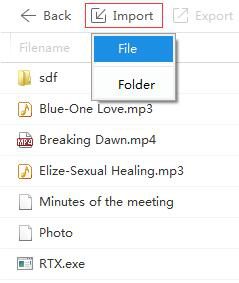 Export:
There is 2 ways to export in iTools, one is select from the top of the list. The second one is right-click on the file you wanted to export. Select the save path in your pc and proceed to export.
Refresh:
Hit refresh button to refresh your files information to the latest one.
Delete:
You can choose a file and click the delete button on the top of the list, or you just simpy right-click on the file you need to delete, and confirm your delete action in the confirmation request.
Create new folder:
Create new folder by selecting the button on the top of the list. After a folder create, you can rename it to the name you desired.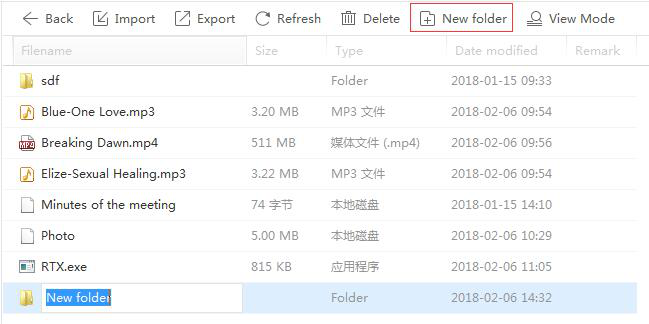 Open the folder, and you can now proceed to import, export, refresh, delete or create new folder. Click back button and you can go back to the previous folder.

Search:
To look up your file in fast and secure way, you can use the search function just right on your upper right. Key in the keywords and you can locate your file easily.

Conclusion:
This tutorial walks you to manage storage of your iPhone or iPad. You are no longer a rookie users after finishing reading the page carefully. You have masterd how to free space on your device and known when you should do that. It is so easy for you to find out the contents with the mount of space consumed that make you keep a better use period for your iPhone or iPad. In additional, you can submit your question to iTools customer service if something goes wrong. And I hope you can pay attention to the iTools official website(www.thinkskysoft.com) to keep up-to-date on the news or releases about iTools.